History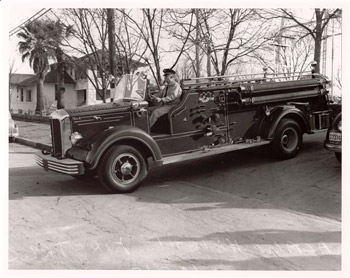 The Alamo Heights Volunteer Fire Department began in 1923. The volunteer staff increased over time to (35) active members. Eventually, (1) paid night watchman and a paid Fire Chief were added. The existing station was built in 1952 to relieve overcrowding from the current city hall where both functions were performed. The initial floor plan included one restroom (unisex) and housed (2) fire apparatus, equipment, and a few pieces of turnout gear. To accommodate the initial (2) paid staff members, a second restroom with a shower, a small office space, and a small kitchen were added. The fire station at this time was approximately 1770 square feet.

The Alamo Heights Fire Department's initial paid staff consisted of (1) Fire Chief and (4) Firefighters which started somewhere in the early to mid 1950s. These firefighters worked 24 hours on duty and 24 hours off-duty. In the mid 1960s, there were 6 paid firefighters and the city added 2 additional personnel to achieve 8 fully paid firefighters. Even with the paid staff, there were still around 35 volunteer firefighters within the fire department. Although there was now a paid staff, the volunteers still played a tremendous role in protecting the citizens of Alamo Heights for many years to come until 1979 when the department became fully paid.

To notify the volunteers of an emergency, there were two large sirens at the current city hall site that were activated when an emergency call was received at the dispatch office. The volunteers would hear the siren and begin responding to the fire station to staff the fire trucks. The dispatcher would write the address of the emergency call on a small chalk board and place it in a planter box in front of the facility so that everyone could see the where the call was as they pulled in and be ready to go.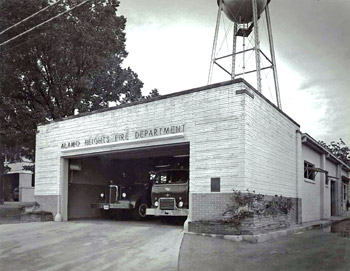 In October of 1982, the cities of Alamo Heights, Olmos Park and Terrell Hills established a cost-shared Fire based EMS service to better serve the three communities. Prior to this time EMS services were provided by a third party agency. Poor provider response times and an inconsistent level of patient care prompted the need for change. According to the initial agreement, each city would contribute annually an amount based on per capita for EMS service in their city. Alamo Heights Fire Department was declared the managing partner responsible for budget, staffing, maintenance, and all other administrative needs related to the system. Medical Direction services were secured, protocol was written, and an emergency medical services provider license application was submitted and approved. Additional equipment needs were evaluated and (2) used ambulances with mandated equipment and supplies were purchased and staged at Alamo Heights. To help facilitate these additional responsibilities, (5) additional personnel were hired thus increasing personnel to a total of (21) and effectively increasing each shift's staffing by (1) person.

In 1983, the need for additional personnel was realized due to the fact that multiple EMS calls were occurring at the same time thus exhausting personnel resources for other fire and EMS incidents. The City hired (4) additional personnel increasing staffing to a total of (25). Of these (4) additional positions, an Assistant Fire Chief's position was created. In 1985, a second addition project was completed to the current station. The construction included the addition of a second apparatus bay to the rear of the station.

In 2005 a third ambulance was purchased to accommodate the increased EMS call volume and an Administrative Assistant was hired to handle in-house EMS billing. In 2007(3) additional personnel were hired, increasing the staff to its current total of (29). In 2008 the City erected a 3360 square foot temporary metal building to house a new 105' Quint Ladder truck, (2) existing support apparatus, (1) special operations WMD/ Haz-Mat trailer and (1) public education trailer. The existing fire station and temporary apparatus building total 7100 square feet and house (9) pieces of apparatus, provide operations and living quarters for (24) shift firefighters, and office space for (5) administrative personnel.